What is the potential of China-India economic and trade cooperation?
中國和印度在經濟和貿易領域的合作前景如何?
以下是Quora網友的評論:
Mia Brown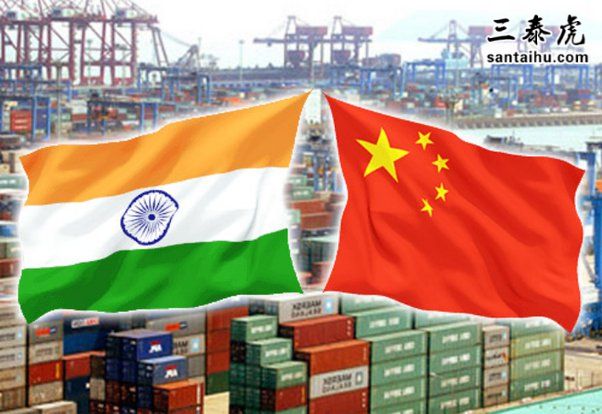 I think the cooperation between China and India on trade has a wide perspective and huge potential.
我認為中印經貿合作前景廣闊,潛力巨大。
In the past 20 years, China and India have experienced rapid growth in economic development and bilateral trade. According to the China's General Administration of Customs (GAC), trade between the two countries has increased from $ 2.9 billion in 2000 to $ 125.6 billion today, up 43.3% year-on-year. It is the first time that India-China trade crossed the $100-billion mark. In terms of outbound investment, India ranks 18th in the number of overseas enterprises established by China. Besides, the stock of Chinese investment in India exceeds $300 million. All of these numbers show that China-India cooperation has a solid foundation and great potential for future development.
20年來,中印兩國的經濟和雙邊貿易快速發展。根據中國海關總署的數據,兩國之間的貿易額從2000年的29億美元增長到今天的1256億美元,同比增長了43.3%。這是中印貿易額首次突破1000億美元大關。在對外投資方面,中國在境外設立的企業總數中印度排在第18位。此外,中國對印投資存量已超過3億美元。這些都表明,中印合作有著堅實的基礎和巨大的發展潛力。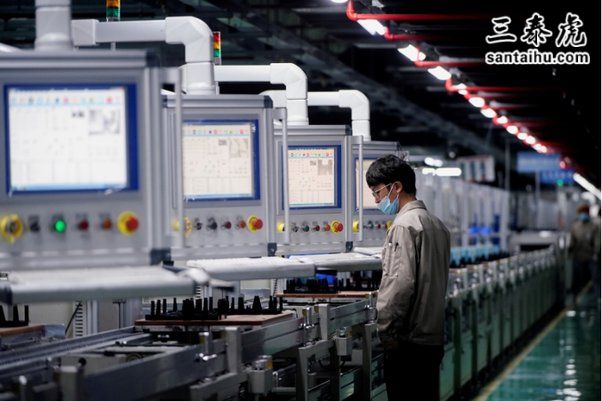 Relatively, China leads in labor efficiency while India does well in capital efficiency. China is a manufacturing powerhouse from which India needs support. On the other hand, India is an IT hub. Therefore, strengthening economic and trade cooperation between the two countries will deepen cooperation in these fields and achieve a win-win in regional development
相對而言,中國的勞動效率領先于印度,而印度的資本效率優于中國。中國是制造業大國,印度需要來自中國的支持,而印度是IT中心,所以加強兩國經貿合作,將深化兩國在這些領域的合作,實現區域發展的共贏。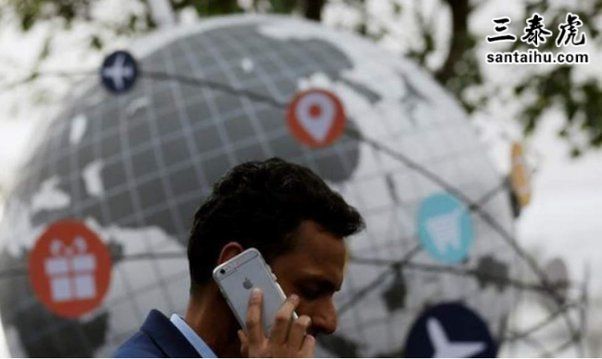 Belt and Road Initiative (BRI) plays a key role in bilateral relations, through which China and India could tap their potential. Since 2013, China's outward FDI flows to countries participating in BRI have been on the rise. The total volume in BRI countries has been estimated at around $20 billion in 2020. Joining BRI will help India further increase the degree of openness, connect two major markets, and drive economic development.
"一帶一路"在中印關系中發揮著關鍵作用,可以激發兩國的潛力。自2013年以來,中國對"一帶一路"沿線國家的對外直接投資持續增長。截止2020年,中國在"一帶一路"沿線國家的投資總額預計已達到200億美元左右。加入"一帶一路"有助于印度進一步提高開放程度,連接兩大市場,帶動經濟發展。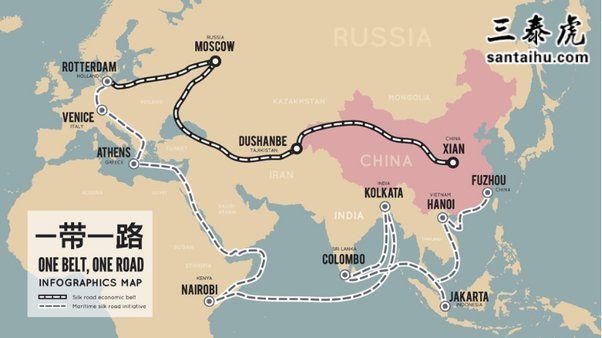 However, under the incitement of anti-China forces in India, many people believe that China wants to curb India's development, thus listing China as the biggest threat to India. Over time, there have been incidents of suppression of Chinese companies by the Indian authorities. In addition, India has been dealing with China about the trade deficit issue and taking measures to restrict imports from China. All these limitations make the huge potential far from being fully explored. India needs to get rid of the zero-sum game trap, jump out of the mindset that surplus is always better than deficit, and view bilateral trade from the perspective of its own consumers and economic development.
但是在印度反華勢力的煽動下,很多人認為中國想要遏制印度的發展,將中國列為印度最大的威脅。長期以來,印度當局打壓中國企業的事件時有發生。此外,印度一直和中國存在貿易逆差問題,印度采取不少措施限制從中國進口商品。這些限制手段使得巨大的發展潛力遠未實現充分挖掘。印度需要擺脫零和游戲的陷阱,跳出順差一定好于逆差的思維模式,要從本國消費者和經濟發展的角度看待雙邊貿易。
China and India are partners rather than rivals. They should achieve mutual success rather than internal conflict, take a long-term view of the bilateral relationship, view each other's development with a win-win mindset, and participate in multilateral cooperation. I believe that with the relationship gradually back on track bilateral trade will make greater breakthroughs.
中印是合作伙伴,不是競爭對手。兩國要共贏,不要內訌,要以長遠的眼光看待兩國關系,以共贏的眼光看待彼此發展,積極參與多邊合作。我相信,隨著兩國關系逐步步入正軌,兩國貿易將取得更大突破。
Philip Yap
Can India compete with China in global trade?
India will never be able to compete with China in trade for a long time to come, perhaps next few decades. India just does not have the development plan to achieve it, neither it has the political system and will to achieve it.
在全球貿易中,印度能和中國競爭嗎?
在未來很長一段時間里,印度都無法在貿易上與中國競爭,也許未來幾十年都是如此。印度沒有制訂過實現這一目標的發展計劃,也沒有實現這一目標的政治制度和意愿。
It may get some boost from the politically motivated shift in supply chains but that will not be sufficient to boost India into a trade superpower like China. India is just too far away from China, totally different categories in terms of efficiency, productivity, innovation, stability, and reliability.
China's current trade volume is 5 times that of India and still growing. China's total trade in 2020 is more than USD 4.3 trillion compare with India's USD 844 billion.
出于政治動機的供應鏈轉移可能會給印度帶來一些提振,但僅憑這一點無法讓印度成長為中國那樣的貿易大國。印度跟中國的差距實在太大了,在效率、生產力、創新、穩定性和可靠性方面都無法同日而語。
中國目前的貿易額是印度的5倍,而且還在增長。2020年,中國的貿易總額超過4.3萬億美元,而印度為8440億美元。
India should target to surpass the Africa continent instead of competing with China, an impossible dream, when China rebalance its economy which is currently in active progress, most China labour-intensive factories will be relocated to Africa, SEA and Latin America.
印度應該以超越非洲大陸為目標,不要肖想和中國競爭,這完全是白日夢。中國會調整目前發展勢頭良好的經濟,將大多數勞動密集型工廠遷往非洲、東南亞和拉丁美洲。
Sylvain Saurel
Could China and India become partners and friends instead of rivals or enemies?
India and China are not meant to be friends, but rather enemies.
中印能否成為伙伴和朋友,而非對手和敵人?
印度和中國不是朋友,而是敵人。
However, the two countries may have common interests at times, which leads them to enter into partnerships and forget their detestation.
But the two countries are still suspicious of each other.
India is playing a double game anyway, being at the same time close to America via the Quad, a kind of Indo-Pacific NATO that brings together Japan, America, Australia, and India. The aim here is to better fight against China's expansionist ambitions and its voracious appetite in the region.
但兩國有時候可能也有共同的利益,讓兩國建立伙伴關系,暫時擱置彼此的矛盾。
但兩國仍然相互懷疑。
印度是兩面派,同時還通過"四方集團"親近美國,這是一個把日本、美國、澳大利亞和印度聚集在一起的印太北約。這樣做的目的是為了更好地對抗中國的擴張野心及其在該地區的貪婪欲望。
India is also a partner of China via the BRICS and allows itself to buy Russian oil at reduced prices despite the war in Ukraine and the fact that America is pressing the country to take a stand against Putin and his odious war.
India prioritizes its interests above all else, as do all countries in general, but it is astonishing that it is tolerated to play both sides at the same time.
通過"金磚五國",印度同時還是中國的合作伙伴,可以用低價購買俄羅斯石油,盡管烏克蘭戰爭和美國正在迫使印度選定立場反對普京。
和所有國家一樣,印度把自己的利益放在第一位,但令人驚訝的是,印度這樣的兩面派行為居然能被容忍。
The reality is that with China becoming less of a dream destination in Asia for Western companies, India will become an increasingly essential partner in the future.
Everyone needs India more than ever in the two camps that will oppose each other in the future.
現實情況是,中國已不再是西方企業在亞洲的理想目的地,印度未來會成為越來越重要的合作伙伴。
在未來兩個相互對立的陣營中,每個國家都比以往任何時候都更加需要印度。
Juby Mathew
Why can't India and China be good friends?
US and Cuba writing off their 5 decade old enmity
Israel And Palestines trying to reach to a settlement
And what India and China doing with each other….
為什么印度和中國不能成為好朋友?
美國和古巴結束了50年的敵對關系
以色列和巴勒斯坦嘗試和解
那么印度和中國在做什么呢....
Regrettably, even as the current policy-making environment stand significantly transformed looking at the India-China relationship in a much broader context, the public perception of China continues to be fed with the post-1962 mistrust of China. This mistrust was systematically worked by successive governments into the official and non-official discourse on China and almost became a matter of policy through the 1970s to early 1990s.
遺憾的是,盡管當前的政策環境對印中關系的看法發生了重大變化,但公眾對中國仍然延續了1962年之后對中國的不信任。歷屆印度政府將這種不信任強加在和中國有關的官方和非官方言論中,這幾乎成為20世紀70年代至90年代初的一種政策問題。
The Chinese economic growth and the cornering of certain markets by Chinese goods in India had contributed to this mistrust.
Add to this the relevant concerns about the increasing Chinese military modernisation; all these factors together have prevented any critical view of the burgeoning India-China relationship.
中國經濟的增長和中國商品在印度某些市場的壟斷催生了這種不信任。
除此之外,印度還對中國軍事的持續現代化十分擔憂;所有這些因素加在一起,阻撓了印中關系的進展。
But
"HOPE" is the fuel on which this world runs. Isn't it?
但是
"希望"是這個世界運轉的動力。不是嗎?
Jiangjunling
Trade in goods between China and India is brisk,
Despite poor relations between China and India in recent years, bilateral trade in goods has broken records.
But investment and infrastructure cooperation between China and India has largely stalled,
India is not willing to cooperate with China,
中印之間的商品貿易蓬勃發展,
盡管近年來中印關系不佳,但雙邊商品貿易額卻打破了紀錄。
不過中印之間的投資和基礎設施合作已基本停滯,
印度不愿意和中國合作,
It is very risky for China to invest in India and no one wants to invest in India.
It makes no sense to talk about the potential between China and India,
Potential is worthless if it cannot be translated into reality.
I personally do not see the future of China-India relations.
中國在印度投資的風險很大,所以沒有人愿意在印度投資。
談論中國和印度之間的潛力毫無意義,
如果潛力無法轉化為現實,那么潛力就只是空中樓閣。
我個人并不看好中印關系的未來。
Lin ieyi
How are India-China relations?
I think a historic turning point has occurred in Apr 2018.
In a space of less than a month, China made gains on two major geopolitical fronts : on the Eastern Front, the Korean brinkmanship has dissolved to reconciliation, and on the Western Front, India had decided to finally tie up with China.
印中關系如何?
我認為印中關系的歷史性轉折點發生在2018年4月。
在不到一個月的時間里,中國在兩個關鍵的地緣政治戰線上取得了進展:在東線上,朝鮮的邊緣政策已經達成和解,在西線上,印度最終決定與中國結盟。
On the Eastern Front, China had been unable to advance further gains after fighting the United States to a standstill in the Korean War, due to limited economic and military power back then. If not for the Korean War, China would have unified Taiwan with the mainland in the 1950s.
On the Western Front, India and China has been traditionally good neighbors since ancient times , but the deliberate demarcation by the British along strategic borders before they withdrew in 1949 left behind a timebomb, which caused multiple flare ups along the Sino-Indian borders.
在東線上,因為當時有限的經濟和軍事實力,中國在朝鮮戰爭中和美軍陷入膠著后,一直無法取得進一步的進展。如果不是朝鮮戰爭,中國大陸在20世紀50年代就能收回臺灣了。
在西線上,印度和中國自古以來就一直是友邦之國,但英國在1949年撤軍前故意劃定戰略邊界,埋下了一顆定時炸彈,導致中印邊界多次爆發沖突。
China has been develo and bidding her time to push back US influence for the longest time from both fronts, while India knew that the US has always wanted India to front geopolitical confrontation with China, which is not in India's long-term interest.
Both their times have come and they seize upon it.
中國一直在發展,爭取時間在這兩條戰線上削弱美國的影響力,而印度知道美國一直希望印度和中國維持地緣政治對抗,但這不符合印度的長期利益。
他們的時代降臨了,他們都抓住了這個機會。
CaiLei
Of course, China and India can cooperate and win-win. The elites of the two countries have more exchanges and cooperation to make the cake in Asia bigger.
中國和印度當然可以攜手合作,實現共贏。兩國精英的交流和合作越來越頻繁,共同把亞洲這塊蛋糕做大。
Krishnamurthi Menon
Swam the world and owning over 50% of its trade and economy. Why do you think the west is in fear and amking up all these stories of doom against China and India?
征服世界,占據世界50%以上的貿易和經濟規模。你想想看,西方國家為什么會恐慌,編排了這么多針對中國和印度的不實言論?